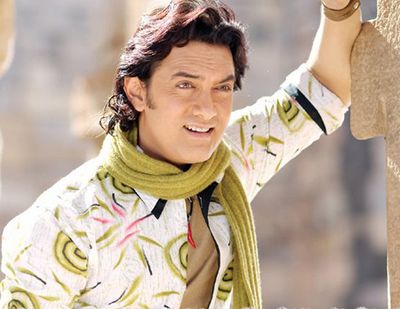 Biographie :
Aamir Khan, né le 14 mars 1965 à Bombay
Aamir Hussain Khan baigne depuis sa naissance dans l'industrie cinématographique : son père, Tahir Hussain, est producteur et son oncle, Nasir Hussain, est réalisateur. Il débute dès l'âge de 8 ans dans Yaadon ki Baarat. Il abandonne le cinéma pendant l'adolescence pour le tennis amateur. Il retourne ensuite vers sa carrière d'acteur à l'âge de 23 ans.
Il débute sa carrière d'acteur en 1988 avec Qayamat se qayamat tak, un film de son cousin Mansoor Khan où il joue aux côtés de Juhi Chawla. Son premier grand succès vient avec Dil (1990), un film de Indra Kumar avec Madhuri Dixit. Il confirme son talent avec Rangeela (1995) de Ram Gopal Varma et Raja Hindustani (1996) de Dharmesh Darshan qui lui permet de remporter son premier Filmfare Awards.
Mais son plus gros succès, il l'obtient grâce à Lagaan en 2001. Pourtant personne ne veut croire au nouveau film de Ashutosh Gowariker et seul Aamir Khan accepte de prendre le risque de le produire. Il créé à cette occasion sa propre société de production, Aamir Khan Productions, et interpète le rôle principal du film. Lagaan est un véritable succès en Inde et à l'étranger : il est sacré meilleur film de l'année aux National Film Awards et est nominé aux Oscars.
Après le succès de Dil Chahta Hai en 2001, Aamir Khan reste absent des écrans pendant presque 4 ans.
Il revient en force avec The Rising (2005) film sur la colonisation et Rang De Basanti qui dénonce la corruption en Inde.
En 2006, il tourne Fanaa, énorme succès commercial, qui marque le retour au cinéma de Kajol.
En 2007 il enchaine avec sa première réalisation, Taare Zameen Par. Succès public et critique, le film remporte plusieurs récompenses et est sélectionné pour représenter l'Inde aux Oscars.
En 2008, Ghajini, son nouveau film est sur les écrans ; c'est la version tamoule qui a décidé Aamir Khan à en faire le remake.
Adepte de la method acting, il a la réputation d'être un acteur caméléon. Il interprète tous les rôles, comique, dramatique, romantique, psychopathe, historique, et incarne ses personnages avec force. Tournant relativement peu, il sélectionne ses films avec soin. Il recherche les scénarios intelligents, bien construits et souvent comportant une thématique forte : la lutte contre la colonisation dans'Lagaan et The Rising, le terrorisme dans Sarfarosh et Fanaa, la corruption dan Rang De Basanti. Il a tourné également un film d'auteur Earth de Deepa Mehta et Taar Zameen Pare où il prend en charge un enfant dislexique.
En 2008 noter qu'il a été au parlement européen parler du réchauffement de la terre.
Concernant sa vie perso, en 1986, il se marie à Reena avec qui il a deux enfants : un fils, Junaid, et une fille, Ira. Il divorce en 2002 pour épouser ensuite Kiran Rao le 1er janvier 2006.
Filmographie :
* 1988 : Qayamat Se Qayamat Tak de Mansoor Khan : Raj
* 1989 : Raakh de Aditya Bhattacharya : Amir Hussein
* 1989 : Love Love Love de Babbar Subhash
* 1990 : Jawani Zindabad de Arun Bhatt : Shashi Sharma
* 1990 : Deewana Mujh Sa Nahin de Nageshwara Rao Y. : Sunny
* 1990 : Awwal Number de Dev Anand : Sunny
* 1990 : Tum Mere Ho de Tahir Hussain : Shiva
* 1990 : Dil de Indra Kumar : Raja
* 1991 : Dil Hai Ki Manta Nahin de Mahesh Bhatt : Raghu Jetley
* 1991 : Afsana Pyaar Ka de Shahjahan : Raj
* 1992 : Time Machine de Shekhar Kapur
* 1992 : Isi Ka Naam Zindagi de Kalidas : Chotu
* 1992 : Daulat Ki Jung de S.A. Kader : Rajesh Chaudhry
* 1992 : Jo Jeeta Wohi Sikandar de Mansoor Khan : Sanjaylal Verma
* 1992 : Parampara de Yash Chopra : Ranvir Prithvi Singh
* 1993 : Hum Hain Rahi Pyaar Ke de Mahesh Bhatt : Rahul Malhotra
* 1994 : Andaz Apna Apna de Rajkumar Santoshi : Amar Manohar
* 1995 : Akele Hum Akele Tum de Mansoor Khan : Rohit Kumar
* 1995 : Aatank Hi Aatank de Dilip Shankar : Rohan
* 1995 : Baazi de Ashutosh Gowariker : Inspecteur Amar Damjee
* 1995 : Rangeela de Ram Gopal Varma : Munna
* 1996 : Raja Hindustani de Dharmesh Darshan : Raja Hindustani
* 1997 : Ishq de Indra Kumar : Raja
* 1998 : Ghulam de Vikram Bhatt : Siddharth Marathe
* 1998 : Earth de Deepa Mehta : Dil Navaz
* 1999 : Sarfarosh de John Mathew Matthan : Ajay Singh Rathod
* 1999 : Mann de Indra Kumar : Karan Dev Singh
* 2000 : Mela de Dharmesh Darshan : Kishan Pyare
* 2001 : Lagaan de Ashutosh Gowariker : Bhuvan
* 2001 : Dil Chahta Hai de Farhan Akhtar : Akash Malhotra
* 2005 : The Rising : Ballad of Mangal Pandey de Ketan Mehta : Mangal Pandey
* 2006 : Rang De Basanti de Rakesh Omprakash Mehra : DJ/Chandrashekhar Azad
* 2006 : Fanaa de Kunal Kohli : Rehan Quadri
* 2007 : Taare Zameen Par de Aamir Khan
* 2008 : Ghajini de A.R. Murugadoss